Who says fall has to be orange??? Not me.... The new fall colors have inspired my mantle decor. I did a twist on fall colors and brought in purple and butterscotch. I recently re did my decor in three of my rooms. I started with my black wrought iron piece as my background, added two tall purple vases, bronze and goldish pumpkins. Then added eucalyptus, in purples and bronzes, some purple and brown grasses and puff balls ( no clue what real name is). Then some cat tails, peacock feathers, until I got the fullness I wanted. And bam! I have my mantle decorated for fall.
In front of my fireplace is my wood holder ( empty, sorry couldn't find any here yet) so pretend there is...ok? A very old bellows and tall candle holders with candles I emblished with velvet and bling, plus a tall urn with purple creepy looking plant in it. And there you have it , all prettified up for fall.
I am linking up to :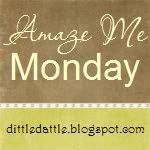 Be sure to stop by and see all the fall goodness and great mantles!
Enjoy!!!!